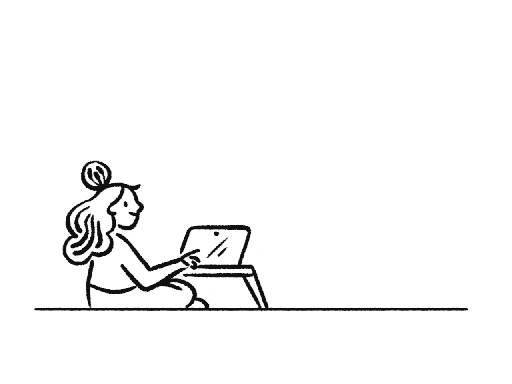 What is Overloop?
Overloop is a sales engagement, outbound, and LinkedIn automation software.
Send ultra-personalized multi-channel outbound campaigns mixing cold emails and LinkedIn automation.
Start your 14-day free trial
Discover Overloop
How to Document Your Sales Processes and Automate the Work You Hate
Consistency and accuracy are vital to any sales team looking to succeed. You need to perform tasks to a high standard every single time - human error isn't something you want in any operation.
After all, you don't want to catch a high value customer's eye just to lose them because they aren't onboarded properly.
To make sure that doesn't happen you need to manage your business processes. More specifically, you need to build a sales process and hire the right people to make sure that your efforts aren't going to waste.
With processes to follow you'll always know what you need to do, how to do it, and won't have to rely on memory to get all of your tasks done properly.
That's why Process Street exists - the easiest way to document and track your processes and make sure your work is done correctly every time. Not only that, but you can integrate your documented processes with great apps like Overloop to automatically carry out the busy work you hate doing.
To show you how, I'll run through how to automatically run a client onboarding checklist (task list) in Process Street to follow whenever you mark a lead as converted in Overloop.
However, to automate this part of your sales process (or any process for that matter), you'll first need to know what Process Street and Zapier are…
Process Street helps you get your work right, every time
Process Street is a piece of workflow management software designed to help you and your team carry out every task you need to do. The entire thing is web-based, so there's no need to download any fancy software. Just log in and away you go!
Processes can be documented in templates in Process Street. These are editable task lists which can contain anything from regular text to videos, images, sample emails, files, and much more. That way you'll always know what to do and how to do it properly.
Checklists can then be run from your templates to let you track your progress through the tasks. These are copies of your template which let you tick off your progress as you go, and can be assigned to team members to let them know what to complete.
Simply put, templates and checklists let your entire team know what they have to do, how to do it, when it's due by, who they need to work with, and quickly display their progress to whoever has permission to view it. This lets your managers easily see what everyone's been doing and who has been following your processes.
Zapier links your software together to automate your work
Zapier is a process automation platform which links together over 1,000 other apps. By passing information between two or more apps, Zapier lets you set up rules for tasks to be automatically performed without you having to raise a finger.
For example, I'm willing to bet that you hate repetitive data entry. That's fine. There's little more annoying than taking the data you've already collected in one app and having to re-enter it in another. You've already put the work into collecting the information, so why should you have to type it out two or more times just to make sure that everything is up to date?
That's where Zapier can help.
Zapier runs on an "if this then that" model. So, you can tell Zapier "if this happens in this app, do that in that app", thus letting your apps interact with and pass information between each other without you having to lift a finger.
Going back to our data entry example, let's say that you've collected a customer's information using Typeform, but want to push that into your CRM without manually copying things over. Instead, you can tell Zapier to create a new entry in your CRM when a Typeform form is submitted, and even push the data from your form into the relevant fields.
There are hundreds of thousands of other uses for business process automation, but that's the gist of it for now. Let get into how to use Zapier and Process Street with Overloop to bring automation and consistency to your sales efforts!
How to link Overloop and Process Street together
So you want to automatically run your client onboarding process when a prospect converts. Don't worry - it's easy.
In fact, there are only four steps to the whole process:
Set up your client onboarding template in Process Street

Make a new Zap in Zapier

Set up Overloop as your Trigger

Set up your Process Street checklist as your Action
Let's get to it.
Set up your client onboarding template in Process Street
First things first - you can't run a checklist in Process Street if you don't have a template to serve as its base. Thus you need to log in to Process Street and set up your client onboarding template.
If you don't already have an account, you can sign up for a free account by going to process.st, typing in your email and then clicking "Get started for free". You can also sign up (and log in) with your Google or Yammer account.
Once you've filled in some information such as your desired password, your company's name, and invited others to work with you, you'll be taken to your Process Street dashboard. This is where you can see all of your templates and folders.
To save you trouble, we've created a client onboarding template which you can import into your Process Street account for free right away. It can also be used as a base and then edited to your needs, so feel free to use it as you wish.
To set it up in your Process Street account, either click here and then on the green "I want this for my business" button in the top right of the screen or go to your Process Street dashboard, click "New", and then "New premade template".
Search for "client onboarding" in the search bar, then select the most fitting template and click "customize" to import it.
Brilliant! Your client onboarding template is set up. Now it's time to set up Zapier.
Make a new Zap in Zapier
Now it's time to get your automation set up. Start by logging into Zapier (or creating a new account if you don't have one) and click "Make a new Zap".
Set up Overloop as your Trigger
Now you need to set up Overloop as your Trigger app. This tells Zapier to keep an eye out for a particular event in Overloop, and when that even happens, Zapier will perform the tasks you lay out in your Action step.
First, search for Overloop and set it as your Trigger app.
Next, choose "Prospect Converted" as your Trigger event. This means that Zapier will take action when it detects that a prospect in Overloop has been marked as having converted.
Now you need to link your Overloop account to Zapier. To do this you'll need your Overloop account's API key, which can be found by visiting overloop.com/api (while you're logged in).
To round things off, you now need to test your Trigger. This means that you will need to have recently marked a prospect as "Converted" in Overloop. Feel free to create a dummy prospect to test this out and mark them as converted - that way you're not playing around with an actual customer's data.
Once your test is successful it's time to move on to setting up Process Street as your Action app.
Set up Process Street as your Action
Your "Action" app and event in Zapier are the things that will happen when your Trigger event is detected. In this case, we want a new client onboarding checklist to be run in Process Street.
To do this, first select Process Street as your Action app, just like you did with Overloop.
Your Action event should be set to "Create Checklist" before clicking continue.
Now you'll need to link your Process Street account with Zapier, again using an API key. To do this, load up your Process Street dashboard and click your organization's name in the top right. This will take you to the organization manager.
Next, click the "Settings & API" tab, and finally on the "New API key" button. Your API key will be displayed in the lower part of the screen.
Now you need to select the template you want to run your checklist from. In our case, this means looking for your client onboarding template using the search bar provided.
Here's your chance to save a ton of time - now you can choose what data will be pushed from Overloop into your new checklist. That means that you don't have to copy out information you've already gathered such as the prospect's email address, name, or company. Instead, just select it to fill whatever comments or form fields in the checklist that you want.
For example, I shipped through the prospect's:
Name

Email address

Company name

Company website

Job title

Phone number

LinkedIn URL

Overloop URL

Overloop ID

And more
To do this, just navigate to the checklist field you want to push information into, click the "Insert a field" button on its right-hand side, then find the information you want to populate it with.
Once that's done all you have to do is test your Zap. This will create a checklist in Process Street and push through the information you've told it to, so check to make sure that you're happy with the final result. If not, now's the time to make changes (but you can also edit your Zaps later if you want).
And there you have it - you've successfully automated part of your client onboarding process. Not only do you have a reliable task list to follow and track to make sure your clients get the attention they need to stick around, but you're also running said process automatically when needed and skipping the tedious data transfer tasks too.
It certainly beats doing all of your tasks using guesswork and your own time.