What is Overloop?
Overloop is a sales automation platform.
Send ultra-personalized multi-channel outbound campaigns mixing cold emails and LinkedIn automation.
Start your 14-day free trial
Discover the features
How to reduce your bounce rate with Overloop
Bounced emails can have a negative impact on your domain reputation. And let's be honest, a high bounce rate is a conversion killer and we hate that.
In this article, I will share these 4 proven methods to increase your deliverability and increase your conversations with prospects. No worries, Overloop has built features to help you to reduce bounce rate and make it as smooth as possible.
First things first: a bounced email is an email that cannot be delivered to an email address. To understand how to deal with this issue, you need to understand why emails bounce. We can roughly divide the reasons into 2 groups:
Recipients (prospects) reasons: It means that the email bounces because of an issue with the recipient: invalid email address, a full mailbox that can't accept more emails, the recipient's server is down (temporary or permanently), etc.
Sender's reasons: That means that the email bounces because of your domain and email address setup or the content of your emails. That includes technical setup (SPF, DKIM), sending address reputation, spammy emails, etc.
Having said that, let's look at how Overloop can help you to deal with that.
1. Check if your sending address is well configured
A lot of people think that the sending address is automatically well configured. Most of the time, it is the case. However, sometimes, some settings are not up to date and it can have a huge impact on your deliverability.
We have built a tool that can help you to check if your sending address is good to go. Go on Bouncebuster.io website and follow the required steps. Once your report comes out, you will be able to know if your SPF and DKIM records are well configured and if your email address has not been blacklisted.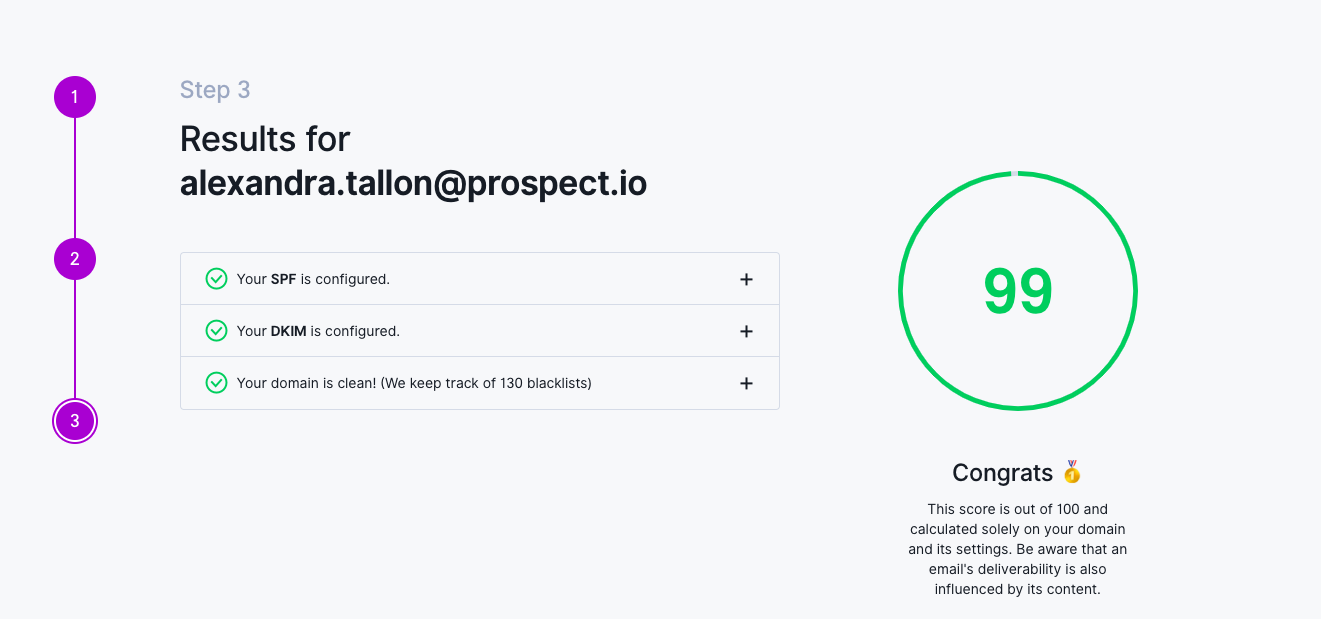 2. Improve your prospect lists
One of the first reasons for bounces is your prospect list. In order to get a good prospect list, make sure to follow these two pieces of advice:
First, only save good email addresses. Overloop makes it so easy with the extension. The extension is a powerful tool to help you find prospects' email addresses without time and effort. Our Email Finder uses some magic (and algorithms) to find anyone's email in seconds.
Each email found via the extension has a confidence score linked to it. Even though the extension does the work for you, you can also have certain control over your minimum confidence scores. In order to get only emails that will have less chance to bounce, we advise you to set your minimum confidence score higher than 50%. You can set that up here on the platform.
And last but not least: don't buy email lists. Purchased lists won't benefit your business. These lists are full of unqualified addresses that won't get you any results. It's always worth taking the extra time to identify quality leads.
3. Don't be marked as SPAM
The more you get marked as SPAM, the more chance you have for your email to bounce. This is why it is important to not be marked as spam. Email Service Providers (ESPs) use a variety of methods to fight SPAM. One very simple method is to detect words that are used a lot in SPAM emails.
One of the first things you should do to increase your email deliverability is to avoid these words in your emails.
We have compiled an exhaustive list of the most used SPAM trigger words on our blog.
Therefore, if you don't want to end up being flagged as SPAM, do a thorough word and spell-check before sending your emails, especially if you're sending emails via the automation to hundreds of prospects.
Moreover, at Overloop we have included a Spam Checker tool inside the email builder. So when you write your email, you get a direct warning if it is a chance that you finish in Spam for the content issue. How nice is that?
4. Configure your CNAME
The CNAME configuration is important on Overloop for your deliverability. Some ESP will block your message if your CNAME is not configured.
So what is a CNAME exactly? A CNAME (Canonical Name) is an alias configured on your own domain (DNS).
To understand why the CNAME is so important, you need to know how we track email opens, and link clicks. Each email that you send from Overloop contains a tracking pixel - a tiny invisible image, which we include in the body of every email. Your recipients can't see it, but our system can track when the image is downloaded from our servers. This is how we know that the email was opened. The tracking pixel URL is rewritten with your own domain when the CNAME is configured.
Having the same domain for tracking links and the sender's email address is one of the key criteria to be used by spam checkers.
This is why it is so important to configure your CNAME. Check this article for more details and if you have any issues, shoot us an email at support@overloop.com.